Amanda Rizner, DMD
A Desire to Help Others
I've wanted to become a dentist every since I was young. I still remember being at a birthday party, when I was 10 years old, and being made fun of because of how big my teeth were at the time. I immediately begged my parents for braces after that party, and they agreed.
After my braces were taken off, I began to feel a new sense of confidence that I lacked before. It was at that moment I knew that I wanted to become a dentist, so I could help other people feel that same feeling I had.
Caring About the Person
I love everything about my profession: the science, the medicine, the artistry, and – most of all – the positive impact I can have on people's lives. At the same time, I appreciate each person I have met and had the privilege to care for. I have loved getting to know my patients, their families, and seeing each become part of my practice family.
For me, dentistry is more than the smile. It's about making each patient feel better as a person, letting them know I care about them as an individual, and ensuring that each feels comfortable coming to see me and my team.
Changing the Perception of Dentistry
One of the most rewarding aspects of my job is having the ability to change someone's entire perspective on coming to see the dentist. Most patients have preconceptions about the dentist being scary, especially as many patients are being seen at a time when they are already in pain.
There is no greater feeling than having a patient tell me they finally feel comfortable, or even excited, about coming to the dentist after being seen for a few visits.
I once had a patient who was terrified to even step foot in the dental chair. He slowly changed his demeanor, each visit, and now stops by unannounced just to say "Hi" and even brings donuts!
It's moments like this that make me realize how much of a positive impact I can make on someone's life – and it's one of the best feelings in the world!
Education, Professional Affiliations, and Continuing Education
I practied for a short time in Philadelphia, until I decided to leave the cold and make the move to Florida, with my husband Shane.
I am an active member of the American and Florida Dental Associations, as well as the Seattle Study Club. Through these organizations I have access to a range of continuing educational opportunities, learning from the leading practitioners and researchers in oral healthcare.
I think it's extremely important to stay up-to-date on the latest technologies and methodologies in the dental field. Just like any profession, dentistry is constantly changing. It's my top priority to continually apply the newest advances in the field to my practice, so patients are always receiving the best level of care.
Beyond the Office
I was born and raised in Browndale, a small town in Northeast PA. I met my husband, Shane, while playing softball in dental school. Shane is also a general dentist and currently pracitices in Sarasota. We have a black cat named Rory whom we rescued from the shelter when we first moved to Lakewood Ranch.
In our spare time, we enjoy taking ballroom dancing lessons. My husband and I took dancing lessons for our first dance at our wedding. We had so much fun that we continued taking them after the wedding was over. We can now cha-cha, rumba, waltz, salsa, and tango, though we're not ready for Dancing with the Stars quite yet!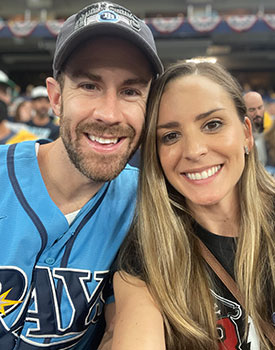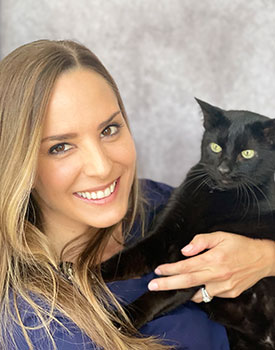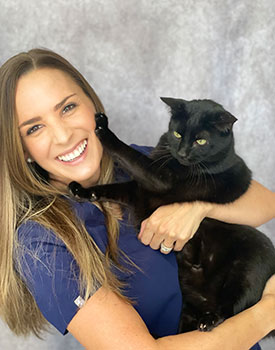 Shane and I both love sports and are die hard Pittsburgh Steelers fans. I'm an avid Fantasy Footballer, and have won a league with all men – twice! – even beating my husband! We love attending any live sports events. We also enjoy going golfing, hanging out by the beach, and binging on horror movies. We're always up for a good Netflix series, so let me know your favorites when you stop by the office!